Job Details
Donors to the Hebrew Free Burial Association, the largest Jewish free burial society in North America.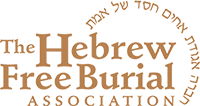 The association raises funds to bury the poor and indigent, who would not otherwise be able to afford a Jewish funeral. Honoring the dead and providing a traditional funeral is one of the basic ethical concepts of Judaism.
Hebrew Free Burial Association (HFBA) devotes its resources to performing chesed shel emet (the ultimate act of loving kindness- for the deceased who are unable to repay the kindness).
Avg. donation $24
Also Available: 21,824 lapsed names @ $85/M
hebrewfreeburial.org
Comments
comments
Quantity:
5,776
Pricing:
$105/M

Minimum:
5,000
Source:
Direct Mail
Updated:
Quarterly
Delivery Options
Email- $60/F
FTP/Electronic Transfer- $75/F

Selections
Geographic- $7/M
Keying- $7/M
Gender- $7/M

Mailer
Offer
Usage
Jewish Home & Hospital
Fundraising
Test
Just One Life
Fundraising
Continuation
Orthodox Union
Fundraising
Continuation
Ozer Dalim
Fundraising
Continuation
Ezer Mizion
Fundraising
Test
Global Jewish Assist.& Relief Network
Fundraising
Test
Museum Of Jewish Heritage
Fundraising
Test
UJA-Federation Of New York
Fundraising
Continuation
Natl. Jewish Outreach Program
Fundraising
Test
Yivo Research Institute
Fundraising
Test
The Blue Card
Fundraising
Test
Jewish Museum
Fundraising
Test
Jewish Fndt For The Righteous
Fundraising
Continuation
Machne Israel
Fundraising
Continuation
ARMDI
Fundraising
Continuation
Jewish Home & Hospital
Fundraising
Continuation
American Jewish Committee
Fundraising
Test
Am. Friends Of Shaare Zedek
Fundraising
Continuation
US Holocaust Memorial Museum
Fundraising
Continuation
NACOEJ
Fundraising
Continuation
Machne Israel
Fundraising
Continuation
Nat. Jewish Medical& Research Ctr
Fundraising
Continuation
Home Of The Sages
Fundraising
Continuation
US Holocaust Memorial Museum
Fundraising
Continuation
Machne Israel
Fundraising
Continuation
Eldridge Street Synagogue
Fundraising
Test
Met Council On Jewish Poverty
Fundraising
Continuation
Associated Beth Rivka Schools
Fundraising
Continuation
US Holocaust Memorial Museum
Fundraising
Continuation
Jewish Home & Hospital
Fundraising
Test
ARMDI
Fundraising
Continuation
Natl Yiddish Book Center
Fundraising
Continuation
US Holocaust Memorial Museum
Fundraising
Continuation
Ohel Children's Home
Fundraising
Test
Associated Beth Rivka Schools
Fundraising
Test
Orthodox Union
Fundraising
Continuation
Machne Israel
Fundraising
Continuation
Home Of The Sages
Fundraising
Continuation
United Lubavitcher Yeshivot
Fundraising
Continuation
Fed.Of Jewish Communities Of The Cis
Fundraising
Continuation
Zionist Org. Of America
Other
Test
Chamah
Fundraising
Continuation
Weizmann Institute
Fundraising
Test
Home Of The Sages
Fundraising
Continuation
Eldridge Street Synagogue
Fundraising
Test
Fed.Of Jewish Communities Of The Cis
Fundraising
Continuation
Chamah
Fundraising
Continuation
Ohel Children's Home
Fundraising
Continuation
US Holocaust Memorial Museum
Fundraising
Continuation
Yivo Research Institute
Fundraising
Continuation
Am. Friends Of Yeshiva Shavei Hevron
Fundraising
Test
Israel Cancer Research Fund
Fundraising
Continuation
Am. Friends Of Shaare Zedek
Fundraising
Continuation
Orthodox Union
Fundraising
Test
Jewish Braille International
Fundraising
Continuation
US Holocaust Memorial Museum
Fundraising
Continuation
Jc Cncl Of Coney Island
Fundraising
Test
Colel Chabad
Fundraising
Continuation
Ezer Mizion
Fundraising
Continuation
Natl. Jewish Outreach Program
Fundraising
Continuation
Ohel Children's Home
Fundraising
Continuation
Fed.Of Jewish Communities Of The Cis
Fundraising
Continuation
Eldridge Street Synagogue
Fundraising
Continuation
Home of the Sages
Fundraising
Continuation
Boys Town Jerusalem
Fundraising
Continuation
Metropolitan Council on Jewish Poverty
Fundraising
Continuation
Ozer Dalim
Fundraising
Continuation
Ohel Children's Home
Fundraising
Continuation
Ohel Children's Home
Fundraising
Continuation
Metropolitan Council on Jewish Poverty
Fundraising
Continuation
DOROT
Fundraising
Continuation
Ozer Dalim
Fundraising
Continuation
Home of the Sages
Fundraising
Continuation